My top 5 films/ TV shows about BDSM - Let's Fetflix and Chill (Code for they make me horny and want to fuck)




So, I enjoy watching films about things I like, so it's no surprise that watching TV shows and films about BDSM happens a lot in my household. I can't say a lot of watching always happens...ahem...however I do really love these films and shows so thought I'd share them with you.
So get yourself comfortable (handcuffs recommended) and let's Fetflix and chill!
1. The Secretary
If you've listened to my podcasts, you'll know that I have a thing about Victoriana AND this film. This was the first film that opened my eyes to BDSM and goddamn is it hot.
Lee, a young girl goes to work for Mr. Grey (I wonder how he feels about his identity being stolen...) at his law firm as his secretary. Fabulous relationship ensues.
IMO It is one of the only films that reasonably accurately portrays BDSM and without any spoilers - Lee being bratty at the end is a total vibe!
⭐ Fun fact - The letter that Lee masturbates to in the bathroom is dated July 27, 1999, yet earlier in the story she is seen reading the June 2001 issue of Cosmopolitan.
2. Preaching to the Perverted
A must watch for anyone into BDSM in any way. Super funny, fantastically English and just superb. 100% positive it's how I want playrooms and scenes to be set up.
PM decides to ban all BDSM/ weird sex acts... sounds a little bit like 2021 no?... so sends a young computer whiz kid to infiltrate the "underground" and the lair of a Ms Tanya Cheex.
⭐ Fun fact - Due to the nature of the film, many prop houses were unwilling to supply props, leading to an unusual situation where the fetish props were easier for the production team to get hold of than more conventional items like tables and lamps.
3. My Mistress
Not a very well known film and one I have only just recently watched myself. Potentially a little bit on the borderline of boundaries around age being crossed but still a very intense and enjoyable film.
IMDB describes the film as: What starts as a beautiful and strangely innocent affair between a vulnerable teenage romantic and a French S&M mistress soon becomes more dangerous.
⭐ Fun fact: The director kept the two main characters apart, rehearsing them separately and scheduling scenes in such a way that he "could see their relationship unfold, so that there was a kind of discovery happening on camera".
4. The Notorious Bettie Page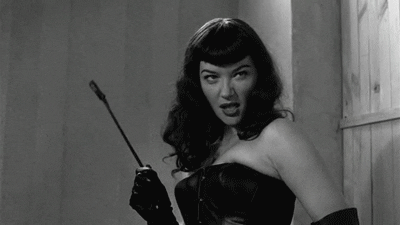 Okay, so not specifically about BDSM itself, but arguably one of the first and most famous fetish models. This film documents her life as a sex icon and how her bondage photos and "pornographic material" ended up with her in court.
Just a wonderful film for anyone interested in the life of Bettie Page and the story of how bondage and "porn" has been victimised since the early days.
⭐ Fun fact - Hugh Hefner held a private screening of this movie for Bettie Page and a small group of friends. Bettie reportedly liked the movie and remarked that the actress who played her was much prettier than she was. Her only complaint was the film's title, saying "I was NEVER notorious!"
5. Bonding (Netflix series)
A hugely enjoyable, light-hearted comedy about a student in NYC moon-lighting as a dominatrix to help pay her bills. She enlists the help of her friend, and much fun and laughter is had.
I thoroughly enjoyed this series as I believe many will, so long as it is not taken too seriously. It is very stereotypical I have warned you! Something to giggle along to with a glass of wine!
⭐ Fun fact OR NOT SO FUN - Twitter gave "Mistress May" a verified Twitter account whilst shadow-banning dominatrixes and sex-workers using their site for business purposes resulting in a huge loss of business. Very disappointing :(
So there you have it, if you fancy a Fetflix and chill, you know where I am ;)
Serena xoxo